How to Have A Hit Halloween Season Using SWAG
---
By Dean Schwartz (SWAG Master): Is your SWAG-stock looking a little spooky this time of year? Are you out of fresh ideas for the fall? There's no need to scream – we've got you covered.
While most people are soaking in the last bit of August sun, any marketer worth their salt already has their eyes squarely focused on making the fall (and particularly Halloween season) more memorable for their employees or clients.
The fall represents a great opportunity to 'wow' people when they may not be expecting it – making it that much more effective and resulting in a higher ROI. Plus, this may be the last time you'll have their full attention before they're inundated with end-of-year distractions.
Scroll below to view some of our favorite options to leave a memorable impression this Halloween.
Click on any of the images or the button below for more information!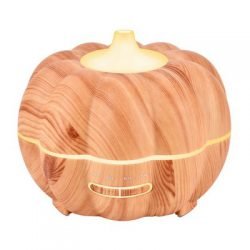 Colorful Wood-Printed Pumpkin Aroma Humidifier
This humidifier features a large tank opening for easy refill & cleaning. It can run up to several hours per filling, & features auto shut-off when the tank is empty. Its compact size makes it ideal for desktops or nightstands.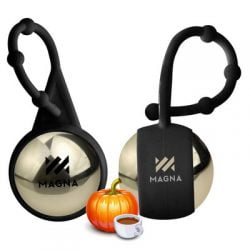 Pumpkin Spice Holiday Metallic Lip Balm & Silicone Carabiner
A lot of people would argue that Pumpkin-Spice flavor is their favorite part of fall – so what are you wating for?! This memorable container holds 14g of all-natural beeswax lip balm. USA MADE, Made in House at an FDA Registered Facility.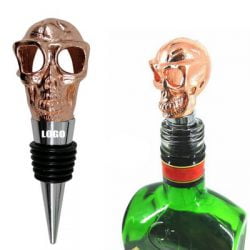 Alloy Skull Wine Stopper Cork
This elegant vivid skull design gift wine bottle stopper is fashionable and unique. Perfect gift idea for the wine enthusiast. Made of alloy material, non-toxic, eco-friendly, safe and durable to use.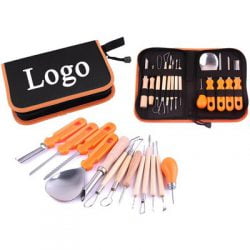 13 Piece Professional Pumpkin Cutting Kit
This all in one carving tool set includes 13 pieces of professional pumpkin carving tools in a black packing bag. The different specifications of engraving tools are great for peeling the rind and for shaping details of the design. Note: Children under the age of 10 should use under the supervision of an adult
Don't get stuck sending out the same boring SWAG every year – essentially throwing money away. Click below to reach out to SOBO and we'll help you design a marketing solution that fits your company's specific needs today.